UV-C Ozone generators in stainless steel for water .
Best quality-price ratio!
Capacity of disinfection of 13m3/h up to 110 m3/h (30 millijoules/cm2)
They are completely delivered with a bypass valve, one ore more venture injectors depending on the model, with a static mixer to ensure a perfect mixing of the ozone with the water, a manometer assuring the regulation of the bypass valve and a purifier. They are already assembled on the required tube (diameter input-output) of the UV-C ozone generator.
They are equipped with an electronic ballast to assure a longer lifetime to the lamps and with a cooling system by ventilator for 2 and more lamps. The interior is glossy polished which allows a higher reflection of the UV-C radiation and so a better germicidal effect to the lamps.
These UV-C ozone generators are qualified for the treatment of the water of our houses, hotels, restaurants, farms, fish farms, swimming pools, spas, ponds, rainwater recovery etc. They provide the best disinfection possible without addition of chemicals and the best protection possible against virus, bacteria or other pathogens in the water.
UV-C OZONE Model
UV.C OZONE
80watts 1.lamp
UV.C OZONE 160watts 2.lamps
UV.C OZONE 240watts 3.lamps
UV.C OZONE 320watts 4.lamps
UV.C OZONE 480watts 6.lamps
UV.C OZONE
640watts 8.lamps
Price in Euro*
995,00 €

1490,00 €

1680,00 €

1890,00 €

2370,00 €

2950,00 €

Ozone flow (Gram/hour)
 1,0 g/h
2,0 g/h 
3,0 g/h
4,0 g/h
6,0 g/h
8,0 g/h
Capacity of disinfection (m3/h) in millijoules/cm2(30mJ/cm2)
13 m3/h
25 m3/h
40 m3/h
 54 m3/h
80 m3/h
110 m3/h
Capacity of disinfection (m3/h) in millijoules/cm2(90mJ/cm2)
4,3 m3/h
8,3 m3/h
13,3 m3/h
18 m3/h
26,6m3/h
36,6m3/h
Number of UV-lamps
1
2
3
4
6
8
Lifetime of lamps
10 000Hr
10 000Hr
10 000Hr
10 000Hr
10 000Hr
10 000Hr
Capacity of lamps
80W
160W
240W
320W
480W
640W
Capacity of UV-C lamps
25W UV-C
50W UV-C
75W UV-C
100W UV-C
150W UV-C
200W UV-C
Connection Input/Output
1" (25mm)
1.5" (38mm)
2" (50mm)
2" (50mm)
2.5" (63mm)
2.5" (63mm)
Volume of treated water for swimming pool/spa (Pump 12 hours/day)
With only 20% chemical addition Brome/active oxygen etc
7-11 m3
12-25 m3
26-46 m3
46-65 m3
66-95 m3
96-120 m3
Volume of treated water pond natural basin, etc..
pump 24h/24h 0% Chemicals
14-22 m3
24-50 m3
52-92 m3
92-130 m3
122-190 m3
192-
Dimension in cm
width
8  
13
16
16
18
23
height
80
87
115
115
125
125
length
110
115
125
125
135
135
ADVANTAGES OF THIS SYSTEM OF DISINFECTION:
The dual action of the UV-C lamps and the produced ozone destroys about 99,9% of virus, parasites, pathogenic bacteria, mold, algae, fungus etc.
These UV-C lamps oxidize and decompose side products of chlorine such as chloramines and other organic pollutants.
Economic, as there are only the costs for electricity for the use of the lamp and the ballast for hundreds of m3 of water perfectly purified.
The lamp has to be changed every 10'000 hours of use, which means every 1-5 years depending on use.
No physical-chemical change of the water, as the ozone O3 will be changed in oxygen O2 within 15 minutes
The ozone generator has no impact on the PH.
Optimal destroying function acting on viruses.
Simply to install and almost maintenance free.
Every unit is tested at the factory and delivered with easy instructions for installation.
How to choose your ozone generator UVC.
 The most important factor determining the effectiveness of sterilization by UV-C radiation is the quantity and the exposure time as well as the dosage of the produced ozone which will be used to destroy the microorganism.
The choice of the ozone generator depends on the water throughput to be treated and the capacity of the pump as well as the final use of the treated water.
Example 1: 30 mJ/cm2 (quantity of UV-C) plus ozone are enough for the treatment of algae and bacteria (swimming pool, spa etc.).
Example 2: 90 mJ/cm2 (quantity of UV-C) plus ozone are enough for the treatment of Gardia protozoon, cryptosporidium, algae and bacteria (drinking water, very contaminated water etc.).
 Attention: Chose your ozone generator by using the UV-C flow chart next to the models. If your choice is based on the UV-C quantity of 90 mJ/cm2, the water will be about 3,6 times more disinfected than the French standard for drinking water (25mJ/cm2) and 2,2 times more disinfected than the Swiss standard of 40 mJ/cm2.
The decision has to be taken based on the contamination of the water to be treated and its final use.
They say that the reason why UV-C ozone generators sometimes do not work is because the generator is undersized and cannot handle the required volume of water. This often happens in first price spas using undersized ozone generators.
As you may see on our website our units are working by two different systems of conversion. On one hand with the corona effect and on the other hand with UV-C lamps. Both systems are even effective and get the same result: ozone.
Good to know, both systems have certain deterioration.
Corona-effect: deterioration of the electrodes, their lifetime depends on the quality of the used components and they require dry air.
UV-C lamp: within 8'000 – 12'000 hours, depending on exposure time.
System sizing:
Please fill out the contact form with a specific request. We will inform you about the unit which fits best for your needs.
Example of installation of outdoor swimming pools/spas.
Attention: Do not operate the generator UVC while swimming.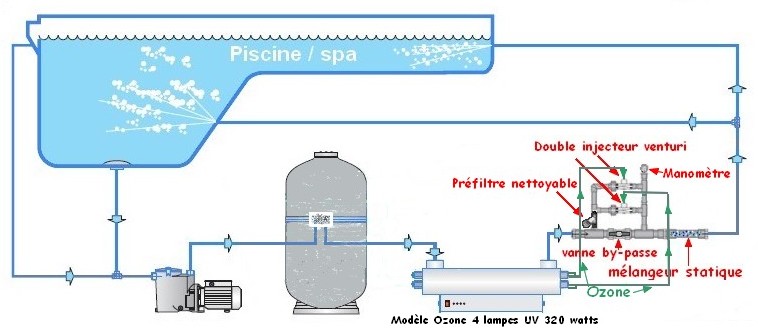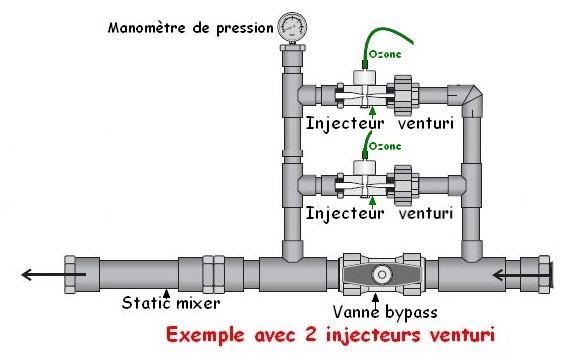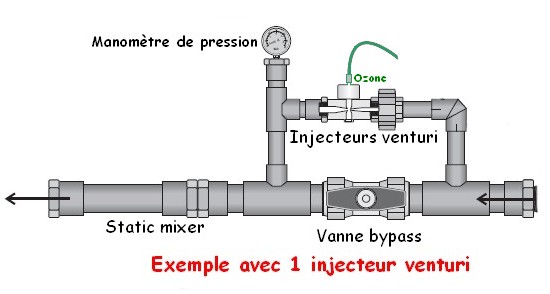 Example of installation of inside swimming pools/spas.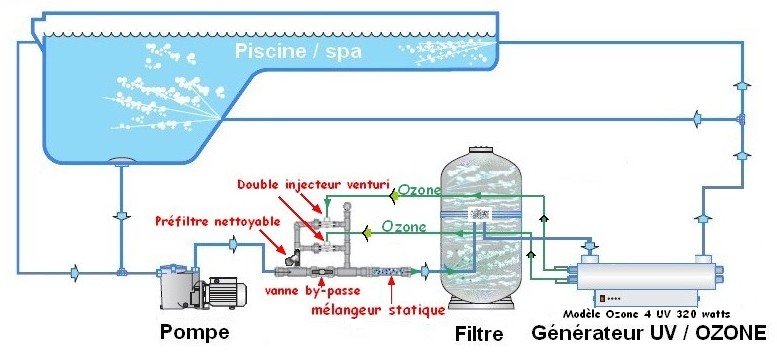 In this installation, the ozone is injected prior to the sand filter. This will allow a longer disinfection action before flowing through the chamber with the ozone generator where the ozone will be neutralized by the effect of the lamps. Finally, the water will flow perfectly disinfected in the swimming pool/spa.
* Export price, the Swiss VAT is not included,
for deliveries in Switzerland VAT is added automatically during order entry (+8%)