STAINLESS STEEL WATER STERILIZERS UV-C
Disinfection capacity from 0.1m3/h to 110m3/h (30 millijoules/cm2)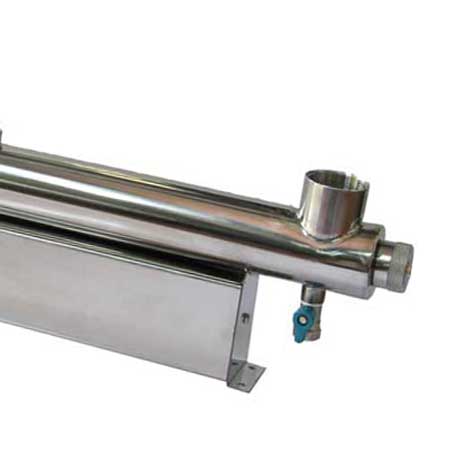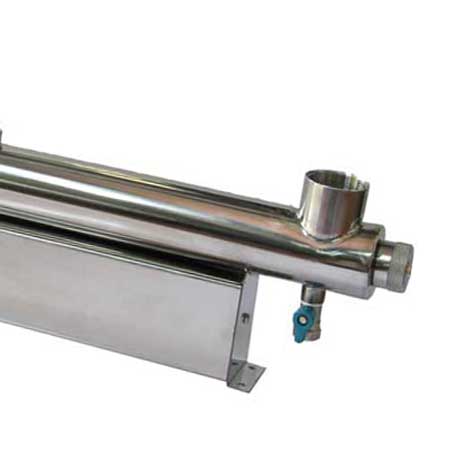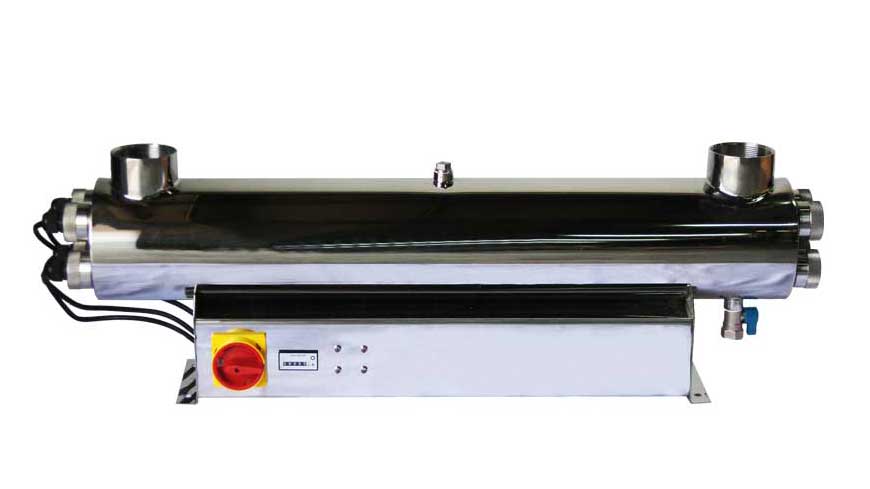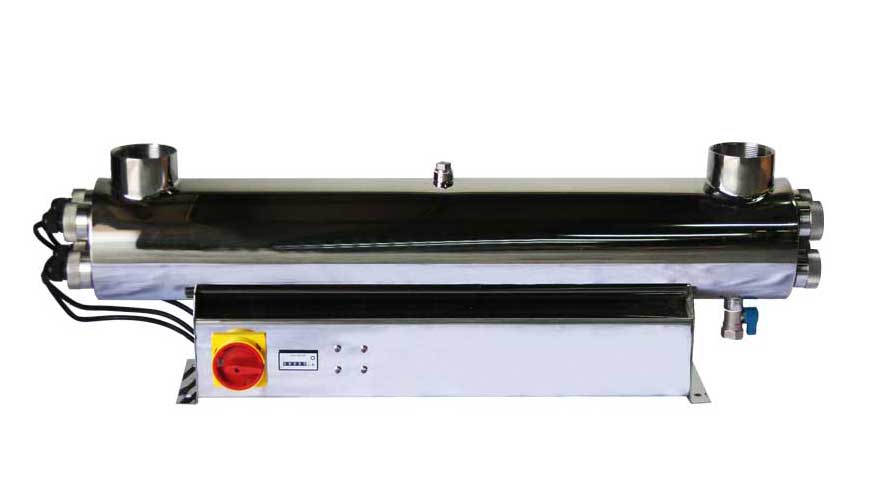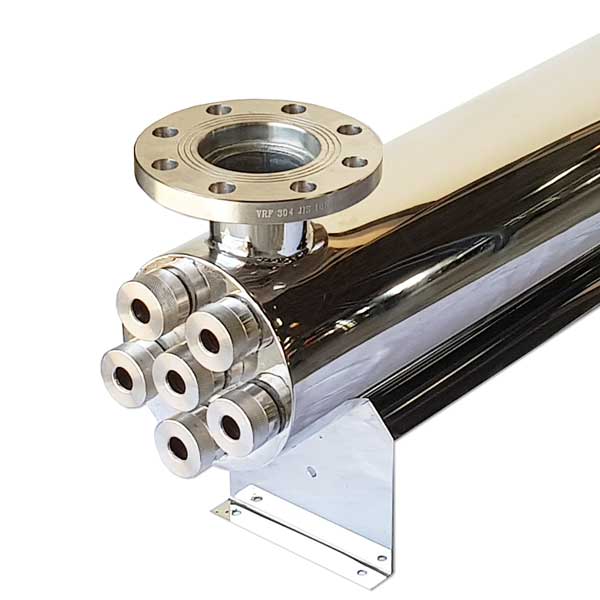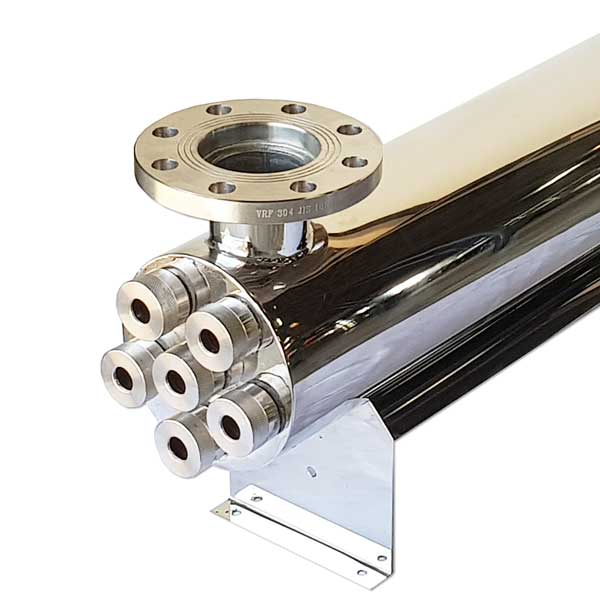 Glossy polished interior allows an optimal reflection of UV-C, giving greater germicidal power to lamps.
They are equipped with an electronic ballast for a longer life of the lamps, and a fan cooling system from 2 lamps.
complete kit (lamp, ballast, electrical connection, etc.)
our models from 25W / 1 lamp to 840W / 8 lamps
UV-C Model
UV 25watts
UV 55watts
UV 80watts
UV 105watts
UV 210watts
UV 315watts
UV 420watts
UV 630watts
UV 840watts
Price in Euro*
209,00 €
225,00 €
580,00 €
890,00 €
1190,00 €
1319,00 €
1519,00 €
1990,00 €
2475,00 €
PROMOTION 30%
623,00 €

833,00 €

924,00 €

1064,00 €

1393,00 €

1733,00 €

Capacity of disinfection (m3/h)
2m3/h
6m3/h
7.5m3/h
9m3/h
14m3/h
25m3/h
40m3/h
60m3/h
80m3/h
Capacity of disinfection (30-50 mJ/cm2)
2m3/h
6m3/h
7.5m3/h
9m3/h
14m3/h
25m3/h
40m3/h
60m3/h
80m3/h
Capacity of disinfection (70-90 mJ/cm2)
1m3/h
3m3/h
3.8m3/h
4,5m3/h
9m3/h
13,3m3/h
18m3/h
26,6m3/h
36,6m3/h
Number of UV lamps
1
1
1
1
2
3
4
6
8
Lifetime of lamps
9.000Hr
9.000Hr
9.000Hr
13.000Hr
13.000Hr
13.000Hr
13.000Hr
13.000Hr
13.000Hr
Capacity of lamps
25W
55W
80W
105W
210W
315W
420W
630W
840W
Capacity of UV-C lamps
7,8W UV-C
17W UV-C
25W UV-C
33W UV-C
65W UV-C
100W UV-C
130W UV-C
160W UV-C
210W UV-C
Connection Input/Output
1/2″(12,5mm) ou 3/4″(20mm)
3/4″(20mm) ou 1″(25mm)
1″(25.4mm)
1″(25.4mm)
1,5″(38mm)
 2″(50mm)
 2″(50mm)
 2,5″(63mm)
 2,5″(63mm)
Pressure bar
4.5 bar
4.5 bar
4.5 bar
4.5 bar
4.5 bar
4.5 bar
4.5 bar
4.5 bar
4.5 bar
Volume of treated water for swimming pool/spa
Pump 12 hours/day
0,8-2 m3
2-6 m3
2,5-7,5 m3
6-12 m3
13-23 m3
25-47 m3
50-70 m3
72-95 m3
96-120m3
Volume of treated water for swimming pool / spa
Pump 24h/24h
1,6-4 m3
4-12 m3
5-15 m3
12-25 m3
26-46 m3
50-94 m3
100-140 m3
140-190m3
192-240m3
Size in cm
6,2×7,5x58cm
6,2×7,5x94cm
13x23x89cm
13x23x89cm
13x23x89cm
16x28x89cm
16x28x89cm
18x33x89cm
23x44x89cm
With this method of treatment, the water of our houses, hotels, restaurants, farms, fish farms, swimming pools, spas, ponds, recovered rainwater, not only benefits from the best disinfection possible without resorting to chemicals, but also the best possible prevention against viruses, bacteria or other pathogens.
ADVANTAGES OF THIS DISINFECTION SYSTEM:
Destruction of viruses, parasites, pathogenic bacteria, molds, algae, and fungi, etc.
UV-C lamps oxidize and break down chlorine byproducts such as chloramines and other organic pollutants.
Economical: the cost is only the electricity consumed by the lamp and the ballast, for hundreds of m3 of purified water.
The lamp should be replaced every 10 000 hours, ie after 1 year to 5 years, depending on use.
No physic-chemical modification of the water.
Safety because no dangerous and toxic chemicals are used.
Viricidal action among the most effective.
No risk of overdose.
Easy installation and minimal maintenance.
All units are pre-tested at the factory and delivered with simple instructions for installation.
How to choose your UV-C sterilizer.
Two essential factors determine the effectiveness of sterilization by UV-C radiation: the dose and the duration of the irradiation necessary for the destruction of living micro-organisms.
The choice of the sterilizer will depend on the flow of water to be treated, the power of the pump, as well as the final use of the treated water.
Example 1: 30 mJ/cm 2 (UV-C dose). Adequate capacity against algae and bacteria in a pool or spa.
Example 2: 90 mJ/cm 2 (UV-C dose). Adequate capacity against protozoa, giardia, cryptosporidium, algae, and bacteria if the water is heavily soiled or intended for human consumption.
To help you choose your sterilizer, flow rates are shown next to the models.
If you opt for an irradiation dose of 90 mJ/cm2, you will benefit from a disinfection approximately 3.5 times more powerful than the French standard set for drinking water at 25 mJ/cm2, or 2.2 times stronger than the Swiss standard of 40 mJ/cm2.
The degree of initial contamination and final destination of the water to be treated will determine your choice.
An undersized device and therefore unable to treat the volume of water required is most often at the origin of the disappointment of the most virulent critics of the UV-C process, quick to decree its inefficiency…
Assembly diagram for pool & spa.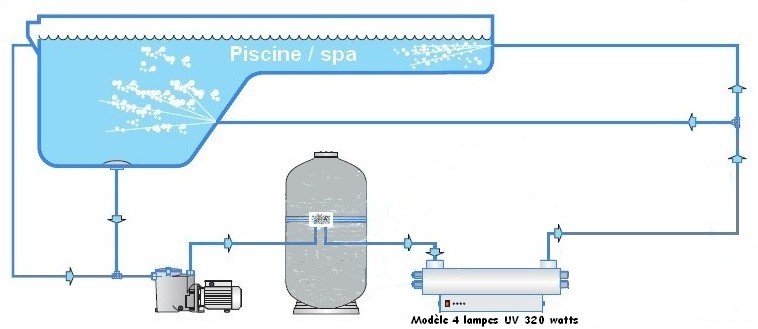 Diagram of assembly for wells, cisterns, ponds, etc..